LÉ Eithne & UN deployments
Summer General Meeting of the Irish Bishops' Conference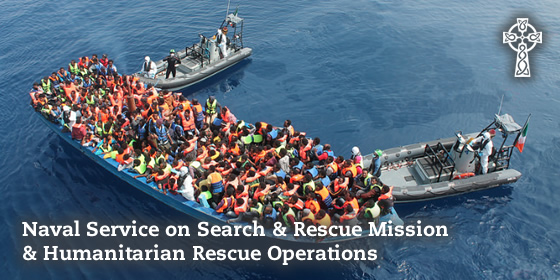 The following statement was issued at the end of the Summer meeting of the Conference held in Maynooth:
The Irish Catholic Bishops' Conference has welcomed the rapid humanitarian response of the Irish naval vessel LÉ Eithne, and the supporting efforts of the Irish Defence Forces who have been carrying our brothers and sisters to safety across the Mediterranean in recent days. 
Their deployment echoes the "field hospital" and "human ecology" themes of Pope Francis, himself the son of migrants.  We have an obligation to safeguard the rights, the religion and the traditions of migrants fleeing persecution.
The Holy Father, an outspoken advocate for greater European-wide participation in rescue efforts, reiterated in April his call for action during his July 2013 visit to the island of Lampedusa, and issued a "heartfelt appeal to the international community to react decisively and quickly to see to it that such tragedies are not repeated."
Bishops also acknowledged the recent deployment of the Medical Corps to Sierra Leone in response to the Ebola crisis which reflects the valuable role of peacekeepers since Ireland joined the United Nations in 1955.
In the light of the ongoing missions in Lebanon and on the Golan Heights, bishops invite the faithful to join with them in prayerful support for the spiritual and pastoral work of the chaplains whose job it is to minister to the personnel of Ireland's Defence Forces, oftentimes in very difficult circumstances.
The issue of humanitarian operations in the Mediterranean had originally been raised by Pope Benedict in 2009 in his Palm Sunday Angelus address:
"I also wish to remember, with great sorrow, our African brothers and sisters who died in the Mediterranean Sea a few days ago while attempting to reach Europe. We cannot resign ourselves to these tragedies, which have unfortunately been occurring for some time! The dimensions of this phenomenon render ever more urgent the need for coordinated strategies between the European Union and the African States, as well as for the adoption of appropriate humanitarian measures so as to prevent these migrants from turning to unscrupulous traffickers."
Pope Benedict continued:
"As I pray for the victims that the Lord may welcome them into his peace, I would like to point out that this problem, recently aggravated by the global crisis, will only find a solution when the African peoples, with the aid of the international community, can free themselves from poverty and war."
full text: here via Vatican website.