Evie Hone – Rathmines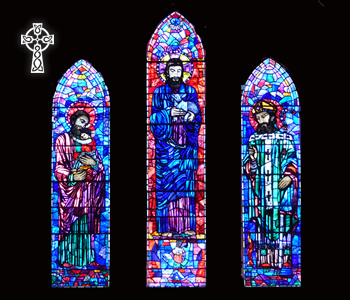 One of a family of painters, Eva Sydney Hone was born in Dublin in 1894. She studied in London at the Westminster School of Art and in Paris.
Her work explored religious themes through painting, sculpture and stained glass. Central to her work was a continuous search for God's plan for her life – particularly as she contracted polio at the age of 11. In 1937 she was received into the Catholic Church after many years of soul-searching.
Evie Hone is regarded as one of the founders of the modern art movement in Ireland and ranked alongside Harry Clarke as one of the finest European stained-glass artists of her day.
One of her greatest works is a stained glass window in the chapel of Eton College which was commissioned after the chapel's windows were destroyed by the impact of a bomb during World War II. It combines two works, Crucifixion and The Last Supper in a stunningly large and complex installation.
The three light window in the sanctuary of St Patrick's Garrison Church, Cathal Brugha Barracks, Rathmines was completed in the late 1930s. It depicts St Joseph holding the child Jesus, Christ the Good Shepherd and St Patrick holding the shamrock and his crozier.
A similar window style the Garrison Church at Collins Barracks, Cork depicts St Finbarr, Christ in Glory and St Michael the Archangel.